Hip, Hip, Hooray
Hip, hip, Hooray! How I gained a new lease of life The Lancashire Magazine Journalist Bob Mullet's article on his experience at Wrightington Hospital and Surgeon Mr Aslam Mohammed.

Read the full article
Lancashire Magazine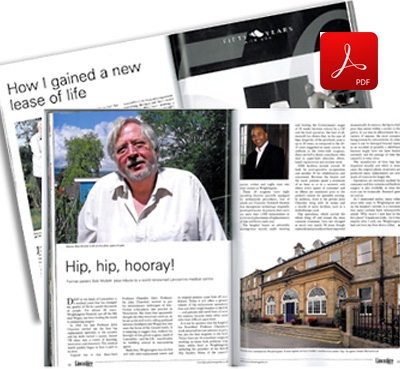 "Angry Look" has gone
Dear Mr Mohammed After seeing you in the outpatient's clinic, both my wife and I felt we wanted to write to you, and ask you to pass on our warmest to all your team.

If it wasn't for all of you, I really feel that things could have so different for me and my family. Instead we all feel that life as a more positive outlook, I can walk again, no pain in my hip and my children say that "angry look" has gone from my face.

Yet again our warmest thanks to all of your team and especially to you Mr Mohammed for believing that you could do something for me. A big thank you from Paul, Lorraine, Chris, Becky & Vicky The -------- x
Positive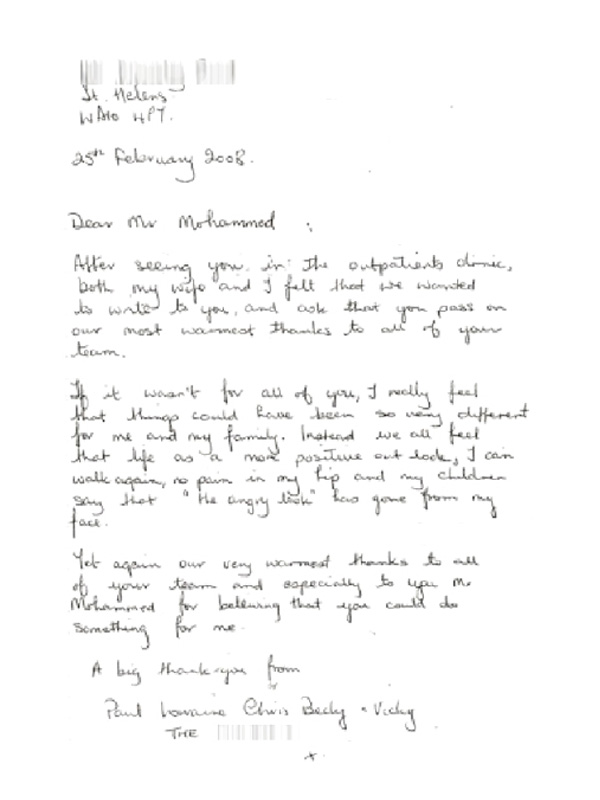 Walking Fantastically Well
Mr Mohammed, I would like to thank you for doing my total hip replacement, from the moment I met you at my first consultation I had every confidence that I would be in good hands. Going for the operation I had no wory or fear and was relaxed because I believed I was lucky to get you doing my operation. I have/was determined to do everything as you instructed and have worked hard to recover. I have no pain, I am walkling fantastically well, feel great and can now pick my one year old grand daughter up and take her for walks. Also, I have a grandson born after the op and can't wait to take him in the pram for a walk.

I am so indebted to you! Thank you so much.
Total Hip Replacement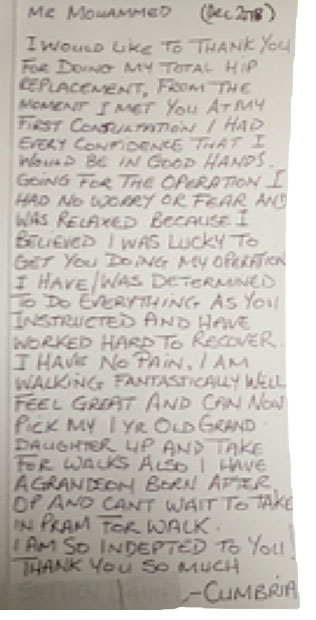 I Can Now Stand Tall Again
Just to say 'Thank You' to yourself and your team, Dr Calleja and all the nursing staff on doing such a 'Fantastic Job.'

I can now stand tall again, pain free and am no longer called 'The Wonkey Donkey' by my family. Most of all, it will be fantastic to go for long walks, play tennis and get my life back to normal.

Thank you!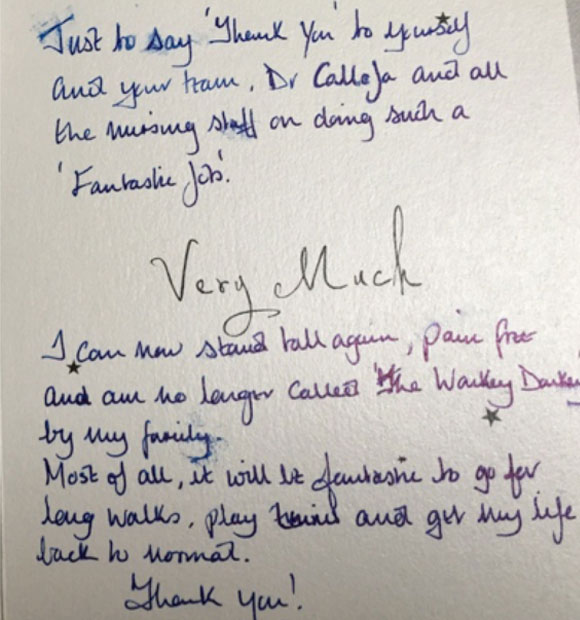 So Much To Look Forward To
Mr Mohammed,
Thank you for doing my surgery and for looking after me so well. I have been waiting for this to happen for 3 1/2 years. It has effected my life dramatically. I couldn't walk any distance and if I did I was in a lot of pain and discomfort. It changed my life completely. I used to be a very active person, doing keep-fit classes and a lot of walking with my husband David and our beautiful German Shephard dog Roxy. But that all stopped because of the pain I was in.
But now, fingers crossed, you have given me back my life. Hopefully when I am full recovered, I can start my walking again and hopefully loose a few pounds in the process.
Thank you Mr Mohammed, you are a life saver. You have given me, my husband and our dog Roy so much to look forward to.
Thank you again from the bottom of my heart.
Isabelle
xx


Both hips are doing incredibly well
Dear Dr Mohammed, In 2011, and again in 2012, you performed my hip replacement surgery. I'm positive you have performed many surgeries before and after mine, and so I assume recalling mine is a tall order.
At the time in lived in Barrow-in-Furness and under your care received the DePuy silent hip replacements, my right hip in June or July of 2011 and the left in July 2012. I had a consultation after the second surgery around the six week mark and everything looked great on the X-ray and the wound was healing nicely, I was then walking on the one crutch and already had great mobility in the hip.

Since that appointment I haven't been to see anyone at the Wrightington and that is down to a couple of reasons. In October 2013 I emigrated to the US and so any correspondence to my old address would have gone unreturned. I also didn't receive any follow up appointments (at the one or two year marks) before I left the country last year so I maybe should have got in touch and requested an appointment before leaving?

However, I wanted to inform you that both hips are doing incredibly well, I have zero pain - and that's in all weather. I have virtually full mobility as I had with my natural joints but always careful not to push things. I maintain a daily exercise regime of cycling and walking to ensure the muscles round the joints are strong and healthy.
It really is hard for me to tell the difference between when I had my natural healthy hips to these new replacements. I obviously avoid impact activities and treat them with respect but I also don't use them as an excuse to prevent me from leading an active normal life.

Thank you for all the advice and amazing care I received at the Wrightington Hospital. I feel my life would have been very different - had I received anything other than the Silent Hip.
Kind regards, Shaun
Hip Replacements