Who is a suitable candidate?

When all conservative and non-operative treatments and interventions fail to alleviate pain and improve function then a total hip replacement may be an option for you. If you are young with an arthritic hip joint this require serious consideration, as the potential for needing revision surgery (redo surgery) is more likely.
What types of hip replacements are available ?
You also may be suitable for a resurfacing replacement, but these are no longer being performed routinely due to reported problems with metal on metal bearing surfaces.
There are number of bearing options available. Mr Aslam Mohammed has extensive experience with these for over 30 years in conjunction with major orthopaedic companies. He now routinely uses a combination of a ceramic femoral head and a highly cross-linked polyethylene socket bearing combination, he finds this as the least problematic and a long lasting option. 
All these options will be discussed with you at your consultation.
Bespoke Implant Surgery
Mr Aslam Mohammed is one the very few surgeons who is able to offer bespoke Hip and Knee implant surgery. This is where the implants, jigs, cutting blocks and instruments are made specifically for your situation and planned from the CT scan that will be performed after you consultation and your decision to have this surgery. Mr Aslam Mohammed uses the Symbios implants and technique.
For more information: www.symbiosorthopaedics.co.uk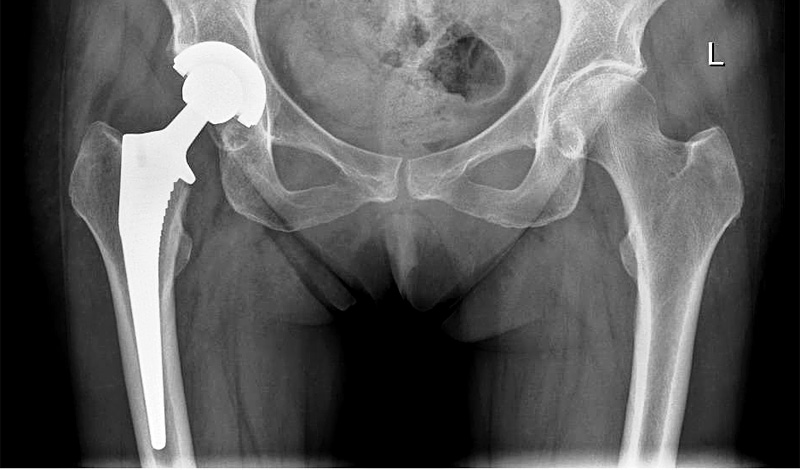 Total Hip Replacement

What does a hip replacement involve ?

The hip joint can be approached from many different directions. Mr Aslam Mohammed favours a mini posterior approach or the anterior muscle separating approach, the suitability for each approach will be discussed with you at your consultation.
The hip replacement, replaces both the ball and socket of the hip joint.
Surgery is carried out most commonly under a spinal anaesthetic with sedation. 
The femoral head is removed from the top of the femur (Thigh bone) by cutting across the neck as planned pre-operatively, the femur is then prepared to accept the correct size and shape of femoral stem implant.
The acetabulum (Socket) is prepared by removing the worn surface of the joint, it is sized and correct size acetabular cup is placed accurately into the acetabulum. A trail reduction is undertaken and leg length and stability of the hip joint are assessed. The definitive components are then inserted into the acetabulum and then into the femur. These can be fixed into the bone using acrylic cement or the implants can be uncemented, where the bone grows onto the implant giving fixation and stability.

What are the risks?
All operations and interventions carry a risk. Measures are taken to reduce some of these risks with, pre-operative education and exercise, stopping smoking and reducing BMI can help reduce some of the risks. Antibiotics, compression stockings and blood thinning medications and early mobilisation are used routinely. Some patients are suitable for an enhanced recovery programme.
Meticulous surgical technique, attention to detail during surgery, and personalised postoperative recovery will optimise your outcome.
General risks: Anaesthetic, Cardiac, Respiratory and Stroke

Risks specific to the operation:
• Infection – superficial wound and deep joint
• Thrombosis – legs (DVT) and Pulmonary embolism (PE)
• Leg length difference, Intraoperative fracture
• Nerve and vessel damage, Complex regional pain syndrome (CRPS)
• Sensitive wounds, Residual pain and stiffness (Arthrofibrosis)
• Wearing out of the bearing surface and instability
• Implants becoming loose
• Need for revision surgery
• Over all dissatisfaction and no improvement with the surgery

What are the outcomes?
Hip replacement is said to one of best treatments that modern medicine can offer. The results of total hip replacement both from the point of view of function, pain relief and in terms of longevity are very good and can be life changing for patients. The majority of patients have improvement of pain and most patients get back to day-to-day activities. Many are able to return to work, exercise and play non-impact sports. With present day materials, bearing surfaces and surgical techniques, there is a 90% chance that your hip will be functioning well at 10 years from the time of being replaced and 80% chance of it doing well at 20 years (See NJR data)
Total Hip Replacement (THR)